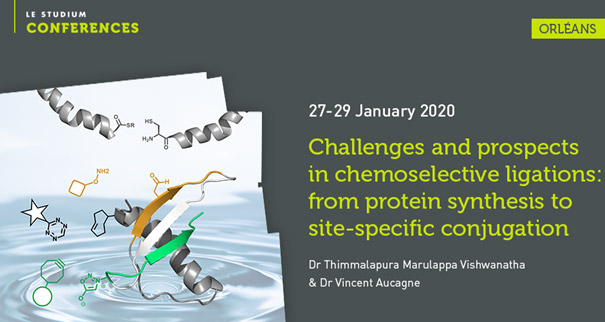 Monday 27th January to Wednesday 29th January 2020
Hôtel Dupanloup, 1 rue Dupanloup 45000 Orleans
Recent years have seen an exponentially growing interest in chemical reactions enabling the selective modification of proteins and peptides.
These advances are intimately linked to the development of methodologies for protein engineering with an atomic precision, for the generation of well-defined antibody-drug conjugates or on-demand probes to decipher biological processes.
Such chemoselective reactions are also widely utilized for the total synthesis and semi-synthesis of proteins through chemical ligation of unprotected peptide fragments, an approach highly complementary to recombinant production.
The chemical reactions implemented for both purposes share the same requirements: compatibility with dilute aqueous solution at physiological pH, and tolerance to the myriad functional groups commonly found in biomolecules. These remarkable features inspired the advent of biorthogonal reactions, which can be carried out in living systems.
This international conference is jointly organized by LE STUDIUM Loire Valley Institute for Advanced Studies and the Centre for Molecular Biophysics – CNRS Orléans. This event will be held under the auspices of the French Peptide Society (GFPP) and follows three previous editions (Paris 2001, Lille 2008 and 2016) of short international meetings dedicated to chemical ligation.
Convenors :
Dr Thimmalapura Marulappa Vishwanatha, LE STUDIUM / Marie Skłodowska-Curie Research Fellow FROM: University Medical College Groningen – NL
IN RESIDENCE AT: Center for Molecular Biophysics (CBM) / CNRS – FR
Dr Vincent Aucagne, Center for Molecular Biophysics (CBM) / CNRS – FR
Website & registration :
http://www.lestudium-ias.com/event/challenges-and-prospects-chemoselective-ligations-protein-synthesis-site-specific-conjugation
Pricing :
Private institutions: 250€
Researchers: 180€
Students: 75€