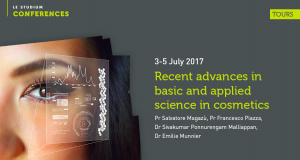 Recent advances in basic and applied science in cosmetics
Monday 03rd, Tuesday 04th & Wednesday 05th of July 2017
Lycée Descartes

(Amphitheater Léopold Sédar Senghor),


1 bis rue de la Préfecture 37000.  TOURS
The International Interdisciplinary Conference titled Recent advances in basic and applied science in cosmetics will be held from 3rd to 5th of July 2017 in Tours.
The Conference aims to update the knowledge in the fields of biophysics, chemistry, biochemistry and imaging applied to skin and cosmetics. This event will gather renowned academy and industry experts and will offer a unique chance to debate the latest topics, issues, trends and challenges in the cosmetics and dermatology field.
For this purpose, the scientific program will cross both fundamental research fields, such as physical and chemical properties of systems of cosmetic interest, bioprotection molecular mechanisms and interface chemical processes, and advanced analytical, imaging and simulation techniques.
Another goal of the Conference is to build cross-disciplinary collaborations to create a scientific value chain, leading to the emergence of new innovative collaborative research activities and to significant socio-economic impacts.
Cosmetics is a field where new scientific and technical opportunities and challenges need to be tackled: on this purpose, for stimulating interdisciplinary and fruitful discussions, some renowned international experts will be invited as lecturers in order to widen the overview of scientific and technological results and perspectives. For achieving the goal to encourage dialogue and interaction among participants, a lot of time will be devoted to discussions during lectures, talks, poster session and social event, this latter being combined with an open round table.
The Conference will be held in Tours in the heart of the territory covered by Cosmetic Valley which supports growth in the cosmetics sector by means of research, training and development activities and services specifically aimed at very small and medium sized enterprises.
Convenors
Pr Salvatore Magazù
LE STUDIUM RESEARCH FELLOW
FROM : Department of Mathematical and Informatics Sciences, Physical Sciences and Earth Sciences, University of Messina, Italy
IN RESIDENCE AT: CBM (Center for Molecular Biophysics), CNRS – University of Orléans, FR
HOST SCIENTIST: Pr Francesco Piazza (CBM)
Dr Sivakumar Ponnurengam Malliappan
LE STUDIUM RESEARCH FELLOW
FROM : RIKEN, Wako, Japan
IN RESIDENCE AT: Nanomédicaments et nanosondes (NMNS), University François-Rabelais of Tours, FR
HOST SCIENTIST: Dr Emilie Munnier (NMNS)
Website & registration :
http://www.lestudium-ias.com/event/recent-advances-basic-and-applied-science-cosmetics
Pricing :
Private institutions : 250€
Researchers : 180€
Students : 60€