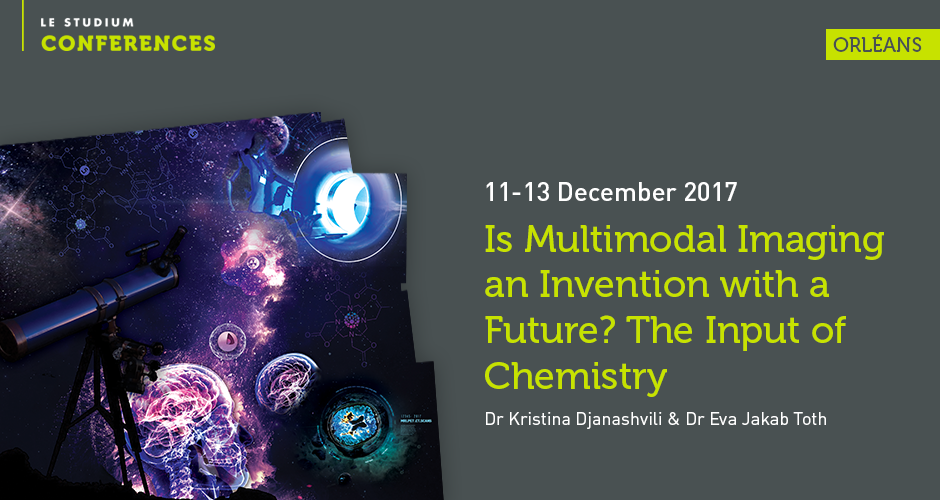 When ? Monday 11th to Wednesday 13th December 2017
Where ? Hôtel Dupanloup, 1 rue Dupanloup 45000 ORLEANS
The scientific concept of multimodal imaging has been gaining momentum over the last decades. Given the intrinsic physical properties of each imaging technique available in the current clinical practice (MRI, CT, US, PET/SPECT or optical imaging), it is clear that none of these modalities alone is able to address all the questions in the search for a correct diagnosis or therapeutic follow-up.
Today, many leading instrumental companies, supported by the physicists from academia, are investing in the design/improvement of multimodal scanners (e.g. PET-MRI). In parallel, chemists working in the field of imaging worldwide are gathering their efforts to create agents that combine various imaging reporters in a single probe.
This conference, jointly organized by LE STUDIUM Loire Valley Institute for Advanced Studies and the Centre for Molecular Biophysics – CNRS Orléans, will address the questions whether multimodal imaging is an invention with future and how chemists can contribute to its success. The conference will have a special focus on metal-based probes and MRI, optical and nuclear imaging modalities.
The conference will start on 11th of December with a welcome lunch (12H00) and finish on 13th of December at 12H30.
Convenors:
Dr Kristina Djanashvili, LE STUDIUM / Marie Skłodowska-Curie Research Fellow FROM Department of Biotechnology, Delft University of Technology – NL IN RESIDENCE AT Centre de Biophysique Moléculaire / CNRS – Orléans – FR
Dr Éva Jakab Tóth – Centre de Biophysique Moléculaire (CBM) / CNRS – Orléans – FR
Main topics :
Multimodal imaging probes incl. nanoparticles and small metal complexes
Combination of imaging and therapy
Responsive probes
Validation of output in MRI, nuclear and optical imaging techniques
Special Honorary Symposium :
We take the opportunity of this Le Studium conference to honor Pr Carlos F.G.C. Geraldes (University of Coimbra, Portugal) and Pr Lothar Helm (Ecole Polytechnique Fédérale de Lausanne, Switzerland) and celebrate their outstanding scientific carrier during a dedicated session – "40 years in Lanthanide Chemistry".
Carlos Geraldes and Lothar Helm have made an immense contribution to the understanding and development of paramagnetic probes for Magnetic Resonance Imaging. Through a very active participation in successive European COST Actions related to metals in medical imaging, their work hasled to novel, fundamental insights into the physical-chemical behavior of lanthanide-complexes in general and the paramagnetic relaxation theory of contrast agents in particular.
Today, Pr Lothar Helm is retiring from the position of titular professor and director of the NMR service of the Institute of Chemical Sciences and Engineering at EPFL, Lausanne (CH), while Pr Carlos Geraldes is leaving the post of full professor of Structural Biochemistry at the Department of Life Sciences of the University of Coimbra (PT). In this symposium, the guest speakers will overview the state of the art in the field of MR imaging agents and discuss future perspectives.
Web & registration : http://www.lestudium-ias.com/event/multimodal-imaging-invention-future-input-chemistry-0
Pricing :
Private institutions : 250€
Researchers : 180€
Students : 75€